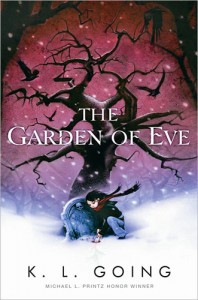 Hello everyone! I hope you've all been enjoying the nice warm weather!
I recently enjoyed
The Garden of Eve
by K. L. Going and I hope you choose to pick it up!
After her mom died, Eve is forced to move to upstate New York where her father has bought a dying apple orchard in a town that is believed to be cursed. Eve refuses to believe in curses anymore though, or any types of magic for that matter, but Eve's world gets turned upside down after receiving a magical seed and making fast friends with the local ghost. Eve suddenly has to decide what's real if she wants to save her new home and her new friends.
The Garden of Eve
was haunting and beautiful. K. L. Going was able to weave a poetic and bitter sweet tale of two children taking on their grief but still learning to open their eyes and believe. Although relatively short in comparison to other books I've read, this story had no need to be longer as it was beautifully written and had nothing lacking. All the characters were easily imagined and relatable in their struggles. I would strongly suggest
The Garden of Eve
to anyone looking for a quick and easy read that's still poetic, deep, and meaningful.
That's all for this review! Don't forget to check back in for more and happy reading!
~Theresa