Hello TBF readers! I hope January has been treating you well. We're knee deep in the season for curling up with a good book and I have yet another for you to add to your list.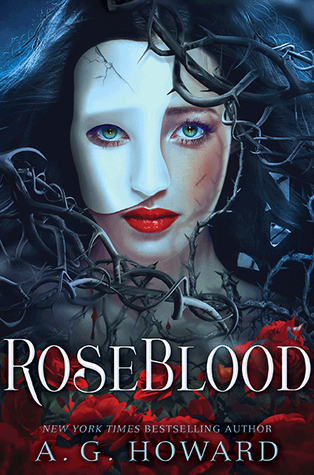 Seventeen-year-old Rune Germain has a mysterious affliction linked to her operatic talent, and a horrifying mistake she's trying to hide. Hoping creative direction will help her, Rune's mother sends her to a French arts conservatory for her senior year, located in an opera house rumored to have ties to The Phantom of the Opera. At RoseBlood, Rune secretly befriends the masked Thorn—an elusive violinist who not only guides her musical transformation through dreams that seem more real than reality itself, but somehow knows who she is behind her own masks. As the two discover an otherworldly connection and a soul-deep romance blossoms, Thorn's dark agenda comes to light and he's forced to make a deadly choice: lead Rune to her destruction, or face the wrath of the phantom who has haunted the opera house for a century, and is the only father he's ever known.
After seeing the
Phantom of the Opera
for the first time on Broadway a few months ago, when I read the synopsis of
RoseBlood
I just knew I had to pick it up. The author did a fantastic job researching the lore and real life ties to Leroux's story.
Having seen the play only once in my lifetime I would never call myself a hardcore fan of the original work but even so I found
RoseBlood
to be a pleasure to read. Howard wove her own ideas and twists in with the already well known work of the
Phantom of the Opera
, creating something new for fans, and even those unfamiliar with the work, to enjoy. I found while reading that I rather enjoyed following the main character's antics and obsessions while she tried to figure out the secret behind the opera house boarding school she'd suddenly been shipped away to. As I followed Rune through her journey I ended up collecting almost as many questions as she did, save a few select insights into Thorn's life with the Phantom that kept me feeling like I was privy to the book's number of secrets. It was a wild ride to the end, riddled with blossoming romance, deadly secrets, and a mysterious underworld that few ever see.
If you're a fan of modern day retellings, fantasy, or the Phantom of the Opera, give RoseBlood a try. Until next time, happy reading!
Theresa